November 8, 2023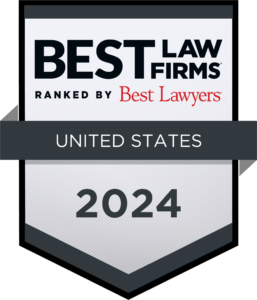 Brown, Goldstein & Levy is pleased to announce it has been selected as one of the nation's best law firms by Best Lawyers in America for the tenth consecutive year. The firm was ranked in Baltimore, Washington D.C., and nationally in the following practice areas for 2024:
National:
Litigation – Real Estate
Mass Tort Litigation / Class Actions – Plaintiffs
Baltimore:
Appellate Practice
Bet-the-Company Litigation
Civil Rights Law
Commercial Litigation
Criminal Defense: General Practice
Criminal Defense: White-Collar
Employment Law – Individuals
Family Law
Family Law Mediation
Health Care Law
Litigation – Labor & Employment
Litigation – Real Estate
Mass Tort Litigation / Class Actions – Plaintiffs
Personal Injury Litigation – Plaintiffs
Professional Malpractice Law – Defendants
Washington DC:
Civil Rights Law
Criminal Defense: General Practice
"Earning this this recognition for a decade straight is a testament to the hard work our team dedicates to our clients every single day," said BGL managing partner Sharon Krevor-Weisbaum. "It's extremely rewarding to see our expertise and commitment once again acknowledged by our peers and clients locally and across the country."
Achieving a Best Law Firms ranking on national and regional scales signals a unique credibility within the industry. Best Lawyers is widely regarded by both the profession and the public as the nation's most credible measure of legal integrity and distinction. Its collaborative research process employs data from peer and client reviews that is supported by algorithmic technology to produce a system of industry-led rankings of the top 4% of the industry.
Earning this designation represents integrity and an earned reputation. Those included in the 2024 Best Law Firms list are recognized for professional excellence with persistently impressive ratings from clients and peers. To be considered for this milestone achievement, at least one lawyer in the law firm must be recognized in the 2024 edition of The Best Lawyers in America. Sixteen of the firm's attorneys were included in the 2024 Best Lawyers in America guide, with two being "Lawyers of the Year" for the Baltimore region.
Founded in 1982, Brown, Goldstein & Levy is a law firm based in Baltimore, Maryland, with an office in Washington, D.C. The firm is nationally recognized in a wide variety of practice areas, including complex civil and commercial litigation, civil rights, health care, family law, and criminal defense. Above all else, Brown, Goldstein & Levy is a client-centered law firm that brings decades of experience and passionate, effective advocacy to your fight for justice.