October 20, 2023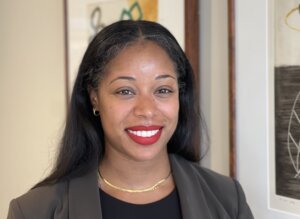 Brown, Goldstein & Levy continues to grow from strength to strength. To that end, we are proud to welcome attorney Michele Hall to the firm. Michele brings a depth of experience in both criminal and civil law. Most recently, she served for five years as a public defender at the Maryland Office of the Public Defender.
During Michele's time as a public defender, she worked as a trial and appellate attorney, representing children in Prince George's County charged in juvenile court and children charged as adults. Through this work, Michele became an advocate for ending the school-to-prison pipeline. She was a member of the Prince George's County Board of Education School to Prison Pipeline Workgroup and conducted trainings for juvenile defenders across the country regarding addressing school policing as part of their individual representation.
Michele also engaged in statewide policy work, regularly testifying before the Maryland General Assembly, meeting with legislators, and working with fellow stakeholders. She supported several juvenile policy initiatives including the Juvenile Justice Reform Act, ending the practice of automatically charging children as adults, and the fight to remove police from schools. During the 2023 legislative session, Michele worked closely with legislators in the Maryland General Assembly to pass House Bill 1071, which prohibits law enforcement from relying on the odor of cannabis to conduct a stop or search of a person or vehicle. Michele won the Maryland Office of the Public Defender's annual Bryan Stevenson award for her work to pass HB 1071.
Michele attended Harvard Law School and graduated cum laude in 2017. While at HLS, Michele was a member of the Harvard Legal Aid Bureau, where she represented low-income tenants in eviction proceedings in Boston Housing Court. Michele was also a proud member of the Harvard Black Law Student Association. After graduating law school, Michele clerked for the Honorable Catharine F. Easterly on the D.C. Court of Appeals.
Learn more about Michele here.
Founded in 1982, Brown, Goldstein & Levy is a law firm based in Baltimore, Maryland, with an office in Washington, D.C. The firm is nationally recognized in a wide variety of practice areas, including complex civil and commercial litigation, civil rights, health care, family law, and criminal defense. Above all else, Brown, Goldstein & Levy is a client-centered law firm that brings decades of experience and passionate, effective advocacy to your fight for justice.