March 1, 2023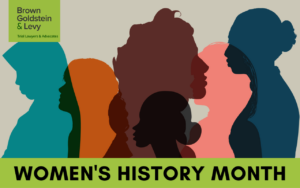 This March, Brown, Goldstein & Levy is proud to celebrate the vital role of women in American history. We are proud of BGL's first managing partner, Sharon Krevor-Weisbaum, and all our women attorneys who go above and beyond to bring the highest quality legal services to clients in Maryland, DC, and across the country.
With varied legal pursuits ranging from high-impact civil rights cases, to voting rights, to family law, and everything in between, our women attorneys are critical to the advancement of justice across a wide array of cases nationwide. They have been instrumental in winning groundbreaking successes across various practice areas, including:
Securing a historic $6.5 million settlement for the family of Eric Sopp, a man who was shot and killed by a Baltimore County police officer.
Obtaining a landmark settlement on behalf of 12 students with disabilities in a mask mandate lawsuit against Virginia Governor Glenn Youngkin.
Securing a seven-figure settlement without the need for protracted litigation in a high-net-worth divorce case.
Securing an $8 million settlement to the family of the late Malcolm Bryant after he served nearly 18 years in prison for a murder he did not commit.
Obtaining a court order holding that Domino's violated the Americans with Disabilities Act by maintaining an inaccessible website and requiring Domino's to make its website accessible.
Obtaining a federal district court victory on behalf of a married gay employee who challenged Catholic Relief Services' withdrawal of health insurance benefits for his husband under Title VII of the Civil Rights Act, the Equal Pay Act, and the Maryland Equal Pay Act.
Ensuring individuals with disabilities have access to accessible absentee voting in Maryland, Michigan, and New York.
BGL would not be the firm it is without our women attorneys' commitment to their legal skills, the development of the next generation of women lawyers, and steadfast leadership.
We remain dedicated to ensuring our actions are consistent with the firm's historic voice of equality and the belief that women attorneys are entitled to strong mentorship and enjoy equal opportunities in succession planning.