June 1, 2023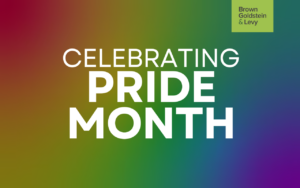 Brown, Goldstein & Levy proudly celebrates LGBTQ+ Pride Month.  We commemorate the patrons and supporters of New York City's Stonewall Inn who, in 1969, courageously resisted the police harassment and persecution to which LGBTQ+ Americans were commonly subjected. We honor generations of LGBTQ+ people who have fought for equality, inclusion, and justice for all, regardless of their identity or who they love.
Although the law has evolved, old prejudices unfortunately still remain. When lesbian, gay, bisexual, transgender, and other individuals experience discrimination, BGL attorneys draw on decades of experience in civil rights cases to provide advocacy and protection. We represent LGBTQ+ clients in all areas of the law. We have pursued cases on behalf of students whose schools censor LGBTQ+ content and on behalf of employees whose employers refuse to extend health insurance coverage to their same-sex spouses. We are also proud to partner with other organizations to advocate for LGBTQ+ equality in the law and to shape policy.
We are proud to work with FreeState Justice to provide pro bono representation to trans men and women seeking name and legal gender identity changes, asylum protection and legal representation in cases involving employment and health care discrimination.
Recently, BGL filed a lawsuit on behalf of Chelsea Gilliam, a transgender woman who was held at two Maryland correctional facilities where she suffered sexual assault, denial of hormone treatment and on-going harassment because of her transgender status.  We recently obtained a federal district court victory on behalf of a married gay employee who challenged Catholic Relief Services' withdrawal of health insurance benefits for his husband. That case continues.
BGL was selected as the nation's "Civil Rights Law Firm of the Year" by The National Law Journal and Elite Lawyers.  Our attorneys are consistently recognized as the best of the best by the industry's leading organizations, including Chambers USA, Lawdragon, Best Lawyers and Super Lawyers. Best Lawyers awarded BGL's Civil Rights practice with its highest ranking and cited BGL partner Eve Hill as its Civil Rights "Lawyer of the Year."
Brown, Goldstein & Levy is proud to continue our work advancing the rights and full equality of the LGBTQ+ community.