March 7, 2023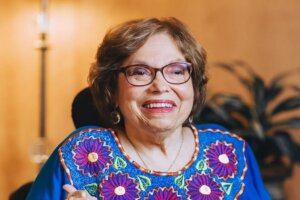 Brown, Goldstein & Levy mourns the loss of our beloved colleague, client, hero, and friend, Judy Heumann, who tragically passed away on March 4, 2022.
Judy was a trailblazer who dedicated her life to fighting for civil rights protections for people with disabilities. Her ferocious advocacy was instrumental in enshrining these protections into law, first with the regulations under Section 504 of the Rehabilitation Act of 1973 and again with the passage of the Americans with Disabilities Act.
In 1993, President Bill Clinton named Judy — who had once been declared a fire hazard too dangerous to be a student or a teacher due to her use of a wheelchair — as Assistant Secretary of the U.S. Office of Special Education and Rehabilitation Services, in charge of all of the nation's federal education programs for students with disabilities. Judy's disability rights advocacy also extended far beyond the United States' borders as a Special Advisor to Secretary of State Hillary Clinton in the Obama Administration, where she was in charge of spreading ideas about disability rights across the world.
BGL joins countless others in paying tribute to Judy Heumann's remarkable life and legacy. We will miss her warmth, tenacity, compassion, and high expectations for our nation.
As Judy once said, "Disability only becomes a tragedy when society fails to provide the things we need to lead our lives." We will continue to honor Judy's legacy as we work to dismantle barriers to education, employment, transportation, technology, and housing faced by those with disabilities.