The likelihood that your acts of resistance cannot stop the injustice does not exempt you from acting in what you sincerely and reflectively hold to be the best interests of your community."—Susan Sontag
Since joining Brown Goldstein & Levy in 2015, Abigail Graber has won important victories for clients in a diverse array of cases, including disability rights, fair housing, racial discrimination, employment, medical malpractice, and Medicaid appeals. She has experience in both trial level and appellate advocacy, including in front of the Maryland Court of Appeals and the federal district and appeals courts in the First, Second, Fourth, Fifth, Ninth, and District of Columbia circuits.
Abigail was chosen for inclusion on the Super Lawyers' Maryland Rising Stars list from 2018-2020. Rising Stars includes lawyers who exhibit excellence in practice and are either 40 years old or younger or have been in practice for ten years or less. Only 2.5 percent of the attorneys in Maryland are named to the Rising Stars list each year.
Abigail partners with the Esperanza Center in Baltimore to provide pro bono representation to immigrant children seeking special immigrant juvenile status. She also works with FreeState Justice representing transgender individuals seeking to change their names and legal gender identities.
Before joining the firm, Abigail clerked for the Honorable Judith Rogers on the U.S. Court of Appeals for the District of Columbia Circuit.
During law school, Abigail served on the Yale Law Journal and as Managing Editor of Development on the Yale Journal of International Law. She participated in the Veterans Legal Services Clinic and the Iraqi Refugee Assistance Project, and she received a Coker Fellowship to teach legal writing to first-year law students. Abigail also received the Francis Wayland Prize for her work representing Vietnam veterans with post-traumatic stress disorder.
Abigail served as a Ford Foundation Summer Fellow in the Education and Employment Division of the National Women's Law Center and interned in the Chambers of Justice Hanan Melcer of the Supreme Court of Israel.
Prior to law school, Abigail worked as a paralegal in a law firm specializing in whistleblower protection and fraud prosecution. She also taught English in St. Petersburg, Russia.
Representative Cases
Principal author of an amicus brief before the Maryland Court of Appeals on behalf of victims of the Gun Trace Task Force. In a landmark ruling, the Court held that the Baltimore Police Department must indemnify members of the Gun Trace Task Force, and pay victims of police misconduct, for actions committed within the scope of the officers' employment (2020).

Brown v. District of Columbia – Obtained court order holding the District of Columbia responsible for providing services under the Individuals with Disabilities Education Act (IDEA) to eligible Washington, D.C., residents who are incarcerated in federal facilities. This was the first case holding a state responsible for providing IDEA services to its residents in federal prison (2019).

Represented nine blind inmates in Maryland state prison in a ground-breaking case to enforce their rights under the Americans with Disabilities Act. The plaintiffs received substantial damages in a first-of-its-kind settlement, and the suit brought systemic changes to Maryland's policies with regard to the treatment of blind prisoners (2019).

Obtained a $975,000 settlement and changes to local policy in a fair housing lawsuit on behalf of the owners of two therapeutic group homes for children after St. Bernard Parish changed its zoning code to prevent the homes from opening. As a result of BGL's lawsuit, the DOJ Civil Rights Division filed its own fair housing complaint against St. Bernard Parish, which was consolidated with BGL's case (2018).

Argued and won ruling on issue of first impression in front of the Maryland Court of Specials Appeals that a plaintiff's carelessness that contributed to the condition for which he sought treatment cannot be the basis of a contributory negligence defense in a medical malpractice action (2018).

Successfully represented female executives at major corporations to resolve violations of Title VII of the Civil Rights Act, the Age Discrimination in Employment Act, the Americans with Disabilities Act, and the Equal Pay Act.

Obtained a favorable settlement with the Board of Physicians on behalf of a Maryland doctor facing charges relating to opioid prescription practices.

Successfully defended a Maryland start-up against frivolous accusations of theft of trade secrets, resulting in a favorable settlement and dismissal.
Awards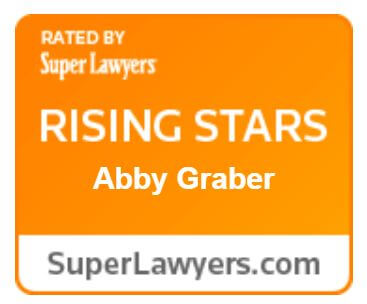 The Washington Lawyers' Committee awarded its Outstanding Achievement Award to Brown, Goldstein & Levy for Eve Hill and Abigail Graber's work to make absentee voting accessible to Virginia voters with print disabilities (Gary v. Virginia Department of Elections) (2021).
Super Lawyers' Maryland Rising Stars, 2018–2021
Media Mentions
Teresa Watanabe, UC Must Immediately Drop Use of the SAT and ACT for Admissions and Scholarships, Judge Rules, L.A. Times (Sept. 1, 2020).

Maria Dinzeo, Judge Bars University of California From Using SAT, ACT for Admissions, Courthouse News Service (Sept. 1, 2020).

Heather Cobun, Baltimore Tees Up Key Appellate Issues on GTTF Liability, The Daily Record (Feb. 10, 2020).
Publications
"Gender Discrimination," in American Governance (Stephen Schechter et al. eds., 2016).