August 3, 2022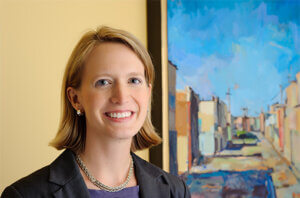 All of us at Brown, Goldstein & Levy are delighted to congratulate Brooke Lierman on winning the Democratic nomination for Maryland Comptroller!
Since Brooke joined the firm in 2010, we have witnessed her resolute commitment to serving her community and advancing justice. Brooke has been an important part of our firm and we are very excited about her recent win.
Brooke was elected to the Maryland House of Delegates, representing District 46 (Baltimore City) in 2014 and again in 2018. She serves in the General Assembly as co-chair of the Maryland Transit Caucus, which she founded, and holds a leadership role on the Environment and Transportation Committee. Brooke also sits on the Joint Committee on Ending Homelessness and the Oversight Committee on Pensions.
Brooke's many accomplishments include being chosen for a 2017 Aspen-Rodel Fellowship in Public Leadership, which is open by invitation only to emerging political leaders with a reputation for intellect, thoughtfulness, and a commitment to civil dialogue. She also received the 2017 Legislator of the Year Award for her outstanding work as a Delegate. Brooke was named to Lawdragon's prestigious 500 Leading Plaintiff Employment and Civil Rights Lawyers guide for 2022 and 2021. She was previously selected to Lawdragon's 500 Leading Plaintiff Employment Lawyers guide for 2020 and 2019. Brooke was recognized by Best Lawyers in the "Litigation – Labor and Employment" category for 2022 and has been selected as a Maryland Super Lawyer for the past two years. Before that, she was selected annually for inclusion on the Super Lawyers' Maryland Rising Stars list each year since 2013.
BGL could not be prouder of Brooke's accomplishments, and we wish her all the best for November!