March 29, 2023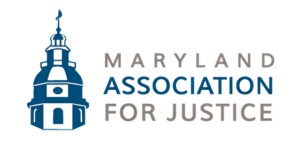 Attorneys Anthony May and Jamie Strawbridge attended an Appellate Practice for Trial Lawyers seminar hosted by the Maryland Association for Justice on March 7. The event, hosted in Baltimore, discussed the critical appellate rule changes and writing techniques that every trial lawyer should know. It dove into recent changes in Maryland appellate rules that have impacted the timing of briefings, brief contents, and oral arguments. It also examined the importance of effective writing in Maryland appellate practice.
Moderated by attorney Zebulan P. Snyder, the seminar featured the Hon. Douglas R. M. Nazarian, a judge of the Appellate Court of Maryland, and attorney Steven M. Klepper. As attorneys with well-respected and growing appellate practices, Anthony and Jamie enjoyed connecting with their peers while further fine-tuning key skills to take back to the courtroom to obtain justice for their clients.
MORE ABOUT ANTHONY MAY
Anthony May has represented clients in a variety of complex litigation matters including assisting employees with disabilities in obtaining accessible technology and accommodations in the workplace, representing individuals who have been wrongfully convicted, commercial litigation disputes, and fighting workplace discrimination based on sexual orientation. Read more about Anthony's practice here.
MORE ABOUT JAMIE STRAWBRIDGE
Jamie Strawbridge joined Brown Goldstein & Levy in February 2020. His practice includes cases involving civil rights, disability rights, housing discrimination, and commercial litigation. Jamie has represented individuals and companies in cases involving discrimination, harassment, police misconduct, contractual disputes, and products liability claims. His appellate experience includes drafting appeals in federal and state court and briefs in opposition to petitions for certiorari before the Supreme Court. Read more about Jamie's practice here.
Founded in 1982, Brown, Goldstein & Levy is a 20-lawyer law firm based in Baltimore, Maryland, with an office in Washington, DC. The firm is nationally recognized in a wide variety of practice areas, including complex civil and commercial litigation, civil rights, health care, family law, and criminal defense. Above all else, Brown, Goldstein & Levy is a client-centered law firm and has decades of experience bringing passionate, effective advocacy to your fight for justice.